3 Steps To Cook Delicious Pasta Carbonara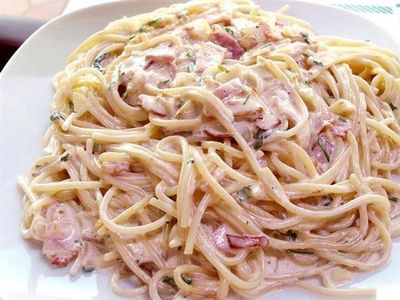 Do you want to impress guests that are coming over to your house for dinner? While you certainly could struggle making something complicated, you could just as easily impress with a simple dish. Pasta carbonara is one of the best dishes to make at home, even for those that are just learning to cook. You can make this at home yourself and everyone will be sure to love what is on their plate!
Ingredients
2.5 cups penne or other pasta type
8 thick pieces of bacon, diced
1 tsp dried parsley flakes
1/3 cup grated Parmesan cheese
1/3 cup sliced green onions
Directions
Boil a large pot of water with salt and cook the penne until it's al dente. Once it's finished, drain the water from the pot and set the pasta aside.
Heat a large skillet over medium heat and add in the bacon. Cook this for a few minutes or until the bacon is crisp and brown. Next, pour the bacon onto a plate with paper towels to drain it. Cook the mushrooms in the grease from the bacon until they are tender, which should only take a couple of minutes. Now pour the mushrooms onto the same plate with the bacon and drain the fat from the pan.
Next pour the cream into the pan and add in the garlic parsley, pepper and salt. Stir these together while heating over medium heat. Once the butter has melted, add in the pasta and put it right into the cream. Once it's well combined add in the bacon and mushrooms as well as the cheese. Heat this for a couple more minutes and then take off of the heat. Spoon the pasta into individual pasta bowls and top with green onions before enjoying!
Tips
This is a great beginners recipe for pasta carbonara that is much easier to make than some of the more complicated recipes that are out there. Try this before you move on to those made with eggs and other ingredients, as those can be a lot more difficult to make.
It's best to make this right before you want to eat, but you can also make ahead of time and freeze. Heat on the stove if you do freeze so that the pasta and sauce reach optimal temperature.
You can use different pastas other than penne if you don't have that on hand. If you want something heavier than gnocchi is a great option because it's a potato dumpling.
Cooking pasta al dente only takes around 12 minutes, as it should not be really soft when it's finished. You want it to have a little bit of hardness because it will sit for a few minutes, which means it will continue to cook.
You can omit the bacon and use other meats, like pancetta, if you don't have it available. You can also leave out meat completely if you want to make it vegetarian friendly. Just use olive oil to replace the bacon grease in the dish.
Featured images:
License: Royalty Free or iStock
source: Fotolia
With years of experience being a professional chef, Maria shares her knowledge with 2Yum.Me. This site is visited by users who want to find cooking tips, advice and information on fitness.