Why Were Team GB So Successful?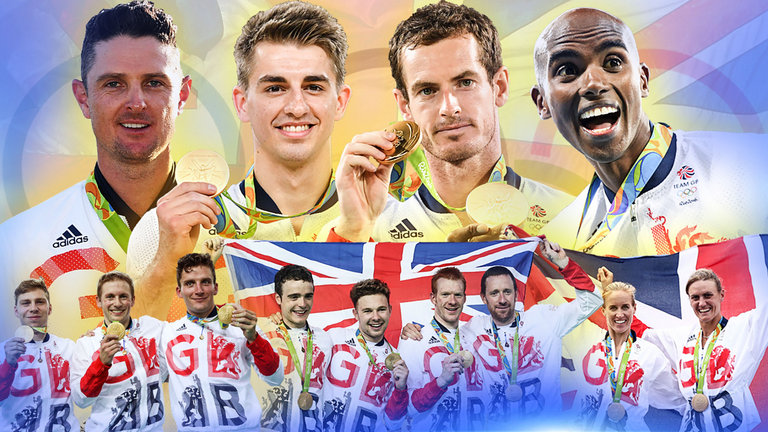 Oakley, the world's most renowned eyewear brand that specialises in sport, must have been thrilled with Team GB's medal haul in Rio this year. Their unmistakable brand appeared on the faces of the cycling team, rowing team and the sailing team. It's not surprising that our Athletes chose to wear Oakley sunglasses in particular. Their high-tech features, quality material and purposeful designs enhances performance and allows competitors to go for gold.
Whilst there's no doubt that the right sporting equipment and accessories enhance a team's chance of taking home medals, there were many different aspects that helped to increase Team GB's chances of success.
Team GB's performance came as a shock to most. After London 2012 nobody was expecting the team to perform to the same standard as they did on home soil. However Great Britain remained solid contenders for the top spots on the medal table throughout the games, and finished ahead of China in second place with 67 medals, 27 of which were Gold.
So what are the reasons behind GB's continued success at Olympic Games?
1)National Lottery Funding
In the summer of 1996, Team GB were humiliated in the Atlanta Olympics, managing a disappointing 36th place on the medal table. Following the team's embarrassing defeat, former Prime Minister John Major made the decision to fund elite sport via the National Lottery. In 1996 UK Sport received just £5million each year. By the time Team GB were heading off to Sydney 2000 funding had increased to £54million. Ever since then Team GB has remained in the top ten on the medal table. National Lottery funding means that promising athletes are able to receive grants and coaching and their support teams have a bigger budget in terms of training.
2)Investing in High-performance
Each sport has its own target to achieve in terms of medals. If they manage to meet the goal that is set then they will continue to be funded or maybe even receive increased amounts. However, if a team misses the target that is set, then their funding is likely to be reduced. This means that financial backing is given to sports where success is more likely e.g. cycling, rowing or sailing. In some sports, such as weightlifting and fencing, Great Britain is underrepresented. Whilst underrepresentation in some sports has caused a backlash of criticism, by increasing the funding for the sports in which Team GB are already strong, the chances of winning multiple medals is hugely extended.
3)Emerging Talent
The influx of Lottery and government funding has meant that new talent is constantly encouraged and regenerated. In Rio in particular, unexpected medals were won by young talent that were relatively new to their respective sports. For example, gymnast Max Whitlock claimed two gold medals and a bronze, whilst Bryony Page claimed Great Britain's first ever medal on the trampoline. The early success of new talent secures future sporting achievements and inspires new generations of athletes.
4)A Great Team Dynamic
Team GB was made up of 366 athletes in Rio. Despite their large number there was no doubting their unified team spirit. The British Olympic Association works hard to create a positive team culture that encourages and supports. Seasoned athletes are to advise those who are new and less experienced, becoming key members of the team. Members of the team are presented with their Team GB tracksuit which they wear with pride throughout the competition. A healthy culture means that team spirit is elevated with every medal that is won. The atmosphere is infectious.
5)The Brailsford Legacy
David Brailsford's marginal gains theory is no secret. The former British Cycling coach was very open about his concept; if you can improve each little thing by 1% you can gain the upper hand. This concept has undoubtedly helped to transform British Cycling, and the sport continues to go from strength to strength. The marginal gains theory has now filtered down into other sports, with coaches looking to make those small improvements in order to get ahead.
Looking forward to Tokyo 2020, it is clear that everyone is already expecting great things. Hopefully Team GB in Tokyo will emulate the success witnessed in London and Rio. Fingers crossed that the 2020 games are littered with Oakley Glasses, a record breaking medal haul and pride.