Top 5 Tips For Designing A Room Your Child Will Love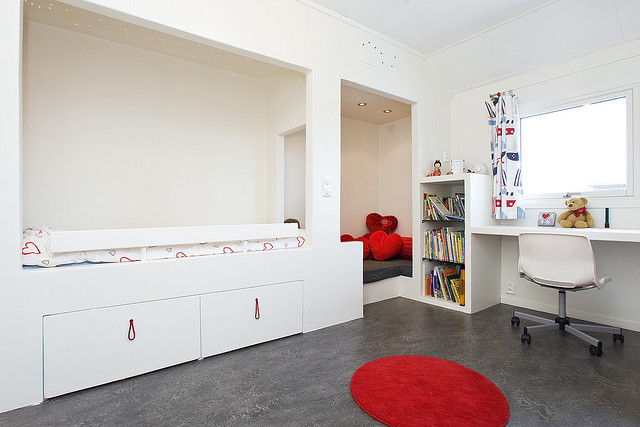 Are you looking to create something special for your loved ones, or are you just preparing for the future? Designing an attractive living space for your children is an interesting and rewarding activity. Here are a couple of ideas that may help you on your way.
1. Wall Décor
Boys will be boys and will take to and lose interest in fads before you even know it. As Superman circles the earth in search of villains, it always seems Spiderman shows up and steals the show. Regardless, a theme is always good, but considering how fast he will grow, you should embrace flexibility in order to adapt to changing needs.
Removable wall transfers are very affordable and allow your children to experiment with "wall tattoos" to suit their tastes. Girls are not much different and gone are the days of frilly beds and pink décor. Regardless of their gender, think growth and flexibility. When painting the room, resort to lighter colors, such as soft tones of blue and green, in order to help create an illusion of more space. Masking tape is priceless when it comes to creating simple wall patterns and could be all you need to liven up the walls.
2. Accessorising
Accessorising a child's room is all about bringing the room to life. Now that you have the bed, study desk and storage space set up, it's time to add some spice. Before you break the bank and go shopping, scour the house for old stuff that can help add some much needed life to the room. Unique items, such as antique books designed as a storage space, an old globe or large wooden chest can often pair with other items to give the room some life.
A combination of old and the new often works just fine. For an especially unique look avoid clichés like teddy bears and car print patterns that dominate stores. Themes are great, but very hard to replace. So, if you don't plan to keep spending, set out on your own unique expedition.
3. Decluttering
However large the room in question is, children love clutter and can reduce the amount of useful space in a heartbeat. Many times clutter is the result of lack of adequate storage and keeping the room clutter free is essential to creating  a roomier feeling. Provide strategically placed baskets to help reduce clutter and store items. For clothes in the wardrobe, consider revolutionary products, such as the Wonder Hanger , which cascades vertically, making most use of the closet. To ease clutter, consider an intriguing graphic floor rug. Children will quickly learn to make use of the race track on the rug and keep the area clear.
4. Study/Work Spaces
Children today are tech savvy and their phones, iPods and iPads, xBoxes and PlayStations are present wherever they go. This is no problem for smaller children, but it is a huge issue for older ones. When designing your child's room, one thing you should invest in is a suitable study area complete with suitable storage, lighting and access to power. Without this, the children will be all over the living room, kitchen, just about everywhere.
This is especially of concern in a shared children's room. In a shared room, the shared study space is perfect for bonding and creating parity and can be the key to harmony. Again for shared rooms, ensure that you provide adequate storage, in order to avoid squabbles.
5. Know Your Child
All children are different and knowing your child is crucial to designing a room they will love. A studious child will probably want more video games and fewer toys, meaning less space but better lighting and seating. If you often have a sibling and their kids over, instead of a single bed have bunk beds for the room. Accessories, such as fish tanks, are great for younger children, as they soothe them to sleep and act as a night light.
As much as possible, always purchase or install fittings that multi task. When it comes to storage more is always a bonus. For small babies, where possible, try new ways to use old furniture – two night stands drawn together make a good changing table with drawers for nappies. In the future, these can resume their original role as night stands. When you must shop, buy cheap and good quality products.
Don't forget to browse online; there are some great shops where you can find some top class products. Most of all, remember to have fun; designing a new room can be a great bonding experience.
Featured images:
License: Royalty Free or iStock
source: http://farm3.staticflickr.com/2121/2301309231_97bb13e63f_z.jpg
Lee Rogers has twenty years experience working as an interior designer, specialising in children's rooms as well as bedrooms, living rooms, bathrooms, kitchens and dining rooms. She established http://www.brilliantwallart.co.uk in order to brighten up homes throughout the UK.