The Best Pashmina Scarves For Summer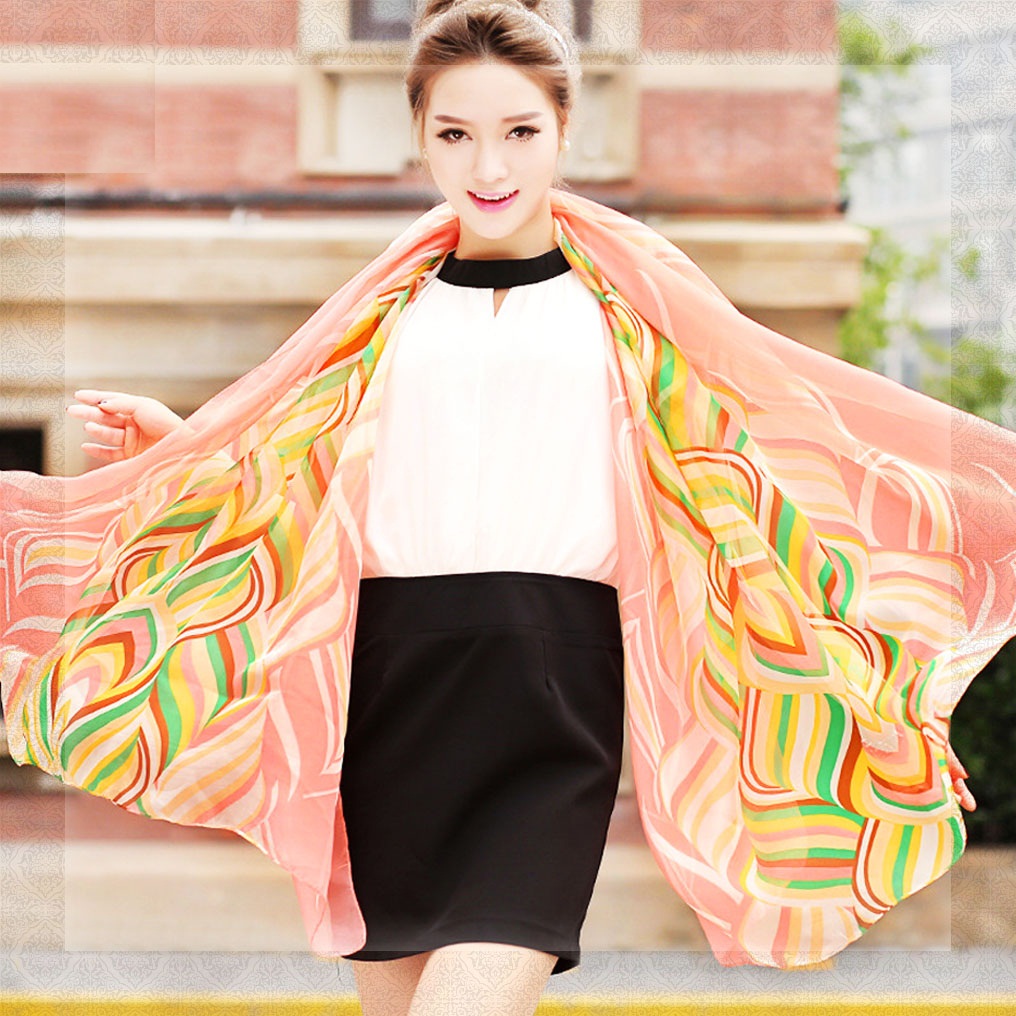 Scarves are a year round accessory and not meant to be worn only in winter. The best fabrics for summer scarves are silk, chiffon, silk blends, satin and light jersey knits. They can be mixed and matched with shirts, dresses, tank top and blouses to add colour and fun to plain and casual outfits.

Pretty patterned scarves are a fun way to accessorize any outfit. It can be easily worn by starting with a blank canvas which can be all black, white, grey or navy. They are also a great way to add character to any outfit. Different patterned scarves include animal prints, polka dots, stripes, geometric designs and florals.  Bright and bold designs pair well with plain background making the outfit beautifully coordinated.
Solid scarves are great core pieces that match any outfit. They can also be worn as headband,belt and necklace. They are versatile and can be worn with solids or multicolored clothing. Summer colours for scarves that look good in summer include shades of yellow, blue, orange, white, green and pink.
The polka dot scarves are good for summer because they are light weight. It can be in a light weight chiffon polyester fabric and it is ideally versatile for holidays. It can be used with many outfits on many occasions.
Pashmina scarves are also ideal for summer. Pashmina scarves allow for creativity throughout the seasons as they can be wrapped around, tied in a knot, worn as a shawl and adds color to any outfit.
Sheer scarves are the hottest summer accessory. They add a colour and a chic edge to your outfit. These scarves can be worn in different ways to give one a stylish and fashionable look.  The cowboy  look is ideal with the square scarves that have  a hint of detail. You can add pop to a plain blouse or a t-shirt by pairing it with a scarf tied like a bow tie. Scarves can also be used as belts.  You can get a cool look by swapping out your belt for a patterned scarf.  The kimono wrap  is done by adding some layers over a tank top when you are out especially in the summer. When having a bad hair day, you can tie a scarf on your head for a  fashionable look. You can get creative with the vintage scarf look by draping the scarf over your face and tying the pointed heads together.  The knot is also another perfect look for casual easy weekends in the summer. You can wrap the scarf from the back to the top of your head and then tying it into a bow.
You can tie your scarves in different designs. The yacht knot  is one of them. You can make your pashmina scarves in summers look super cool by tying it up with a low front knot. Team it up with a loose breezy dress is best looks.
Give a retro look to your persona by wearing summer scarf in the bandana way.
You can also make an impression while walking around in summer by wearing a summer scarf in floral patterns.