When you have been scheduled for a spine surgery, the first thing that you need to do is arrange all the essential things in your hospital bag. Even if your spine surgeon in Los Angeles allows you to go home for recovery post-surgery, these items will come in really handy.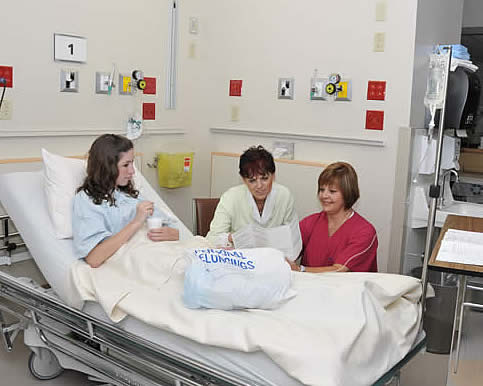 Go through this checklist and arrange for all the items so that you are more relaxed and independent even on the hospital bed.
1. Slip-on Shoes
A pair of slip-on shoes is extremely essential as you will need to wear them for several weeks, even after you return home. Slip-ons are a better option because wearing them will give you relief from bending to tie your shoes. Crocs are a good option too as the doctor will advise you to walk as much as you can, even outside the hospital. These are extremely easy and comfortable to wear.
2. Sports Water Bottle
A sports bottle is simply an indispensable item. Any specialist Los Angeles Spine Surgeon will tell you to drink lots of water. Having a sports bottle handy will make it easy for you to drink water whether you are lying down, reclining or sitting up. It will not out any stress on your neck or back and won't create a mess either as it has a squirt top.
3. Laxatives and/or stool softeners.
Majority of the patients suffer from some degree of constipation post-surgery. Constipation can cause a lot of pain and discomfort, especially after back or neck surgery. Although, the hospital may provide you with laxatives or stool softeners, it still better to stock up on your own supplies and keep them with you. You can also treat your constipation with prune juice, apple cider, etc. Or over-the-counter laxatives and stool softeners will all help prevent postoperative constipation.
4. Lip balm, Hand Moisturizer & Foot Cream.
Lip balm, hand moisturizer and foot cream are also important as the hospital's air is quite dry and uncomfortable. Adding a saline spray to a pouch along with moisturizer, cream and lip balm will ease everything for you. You will be able to apply hand cream and lip balm on your own and a helper from or home or one assigned by your Los Angeles Spine Surgeon can massage your feet with your favorite foot cream.
5. Toiletries
When your doctor allows you to shower, preferably, you will need your own toiletries. Your pouch assigned for toiletries should consist of the following items.
Toothbrush
Tooth Paste of your choice
Baby wipes or moist wipes (to sponge yourself and freshen up)
A small bottle of hand sanitizer within reach to clean your hands easily.
6. Scratcher
If you ask any prominent spine surgeon in Los Angeles, he/she will tell you that due to surgery and other medications, the back can become dry and itchy. So, it is advisable to equip yourself with a stick or a wooden spoon with a long handle, however, it is best to get a scratcher instead.