It is not surprising that Machu Picchu is such a popular travel destination today. Centuries ago, it was considered to be a country resort for the elite population of the Incas.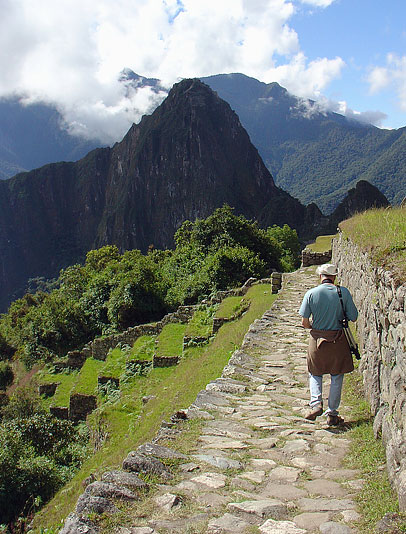 Machu Picchu was built around 1430 AD but soon abandoned because of the Spanish Conquest of the Inca Empire.
After UNESCO declared the present day ruins as a World Heritage Site in 1983, more and more tourists wanted to see and learn more about Machu Picchu.
If you plan to visit Machu Picchu, you must be prepared to walk around the site as no vehicles are allowed to ply within.
A pair of comfortable shoes will prove to be really helpful, especially if you are willing to hike.
Although it is not a necessity, the guided tours will help you get a deeper insight into this the history, geography and culture of this ancient city.
Sun Gate or Inti Punku
If you chose to follow the Inca Trail, the Sun Gate will be the first part of the ruins that you will see.
This is the best point to be standing at if you want to get a good glimpse of the entire valley.
The hike can be stressful but if you manage to complete it at the right time, you will be able to witness the sun peeking over the mountains and through the gate.
Temple of the Sun
The most attractive feature of this ancient temple is the stonework.
The numerous walls in the city are merely made of rough stones and put together with mud but some parts of these walls bear very intricate stonework.
While at this location, make sure you get a look at the Temple of Three Windows too.
Intihuatana
This is the name given to a stone that was carved in such a manner that on certain days, when the sun would create a shadow, the stone would function like a sun dial.
The phrase intihuatana literally translates into 'measuring the sun'.
Temple of Condor
While most guides will tell you that this was yet another temple, historical studies suggest that this chamber was used to whip prisoners who had supposedly sinned.
A rather scary pit in the chamber is the channel that helped to drain the blood that was shed by these prisoners.
Additional Things To Do
If you like walking, the guided Peru tours offer some really fun treks at Machu Picchu. It is a good idea to acclimatize yourself to the elevation at Aguas Calientes and Cuzco before you move on to Wayna Picchu.
Wayna Picchu looks rather daunting and is in fact very steep. However, the ascent is not a very difficult one and if you are reasonably fit, you would be able to manage.
On your way, you will have to cross a cave at the top which is rather low and quite a tight-squeeze. All in all, the landscape is beautiful and totally worth your time.
If you have some extra time to spare, you can also walk to the Great Cave and the Moon Temple. You will have to climb quite a few ladders and if you are lucky, you can spot some exquisite wildlife too.
Carry water and snacks so you can keep refreshing yourself from time to time because Machu Picchu is such a great tourist destination, it is agonizing to stop midway.
Greg Solis is a regular travel blogger offering advice on popular travel destination and tours to international destinations.