The thought of redesigning your business's website can be a bit overwhelming. It'll take a lot of work to give your current website a complete overhaul, but consider the cost of not doing so. By having an outdated website you are probably losing customers daily. Customers want fresh, updated and clean websites that are easy to use. The price you pay now to update it will pay off with increased traffic from new and returning customers and added sales.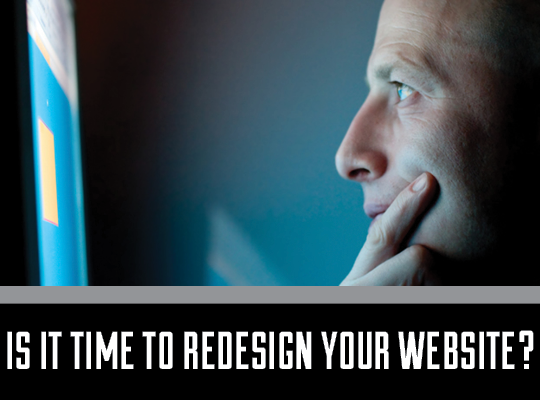 How do you know it is time to redesign your website? Let's take a look at some key indicators that tell you it is time to start redesigning your company's online presence.
1. Outdated Appearance
Your company's web design just looks old and outdated. Aesthetics are an important part of your website. If your graphics and layout look like something that was popular 15 years ago, it may be time to update things. Add the latest graphics, text designs and color schemes to your page. The general shelf life of a web design is 12 months. If it has been more than that, it may be time to shake things up a bit.
2. Clutter
Remove and update any obsolete or unnecessary features that are still on your webpage. This includes any links which take visitors to "404-Page Not Found" errors or any broken links. Remove any information which is not relevant to your company's business and add fresh and new information and features.
3. Unresponsive
An unresponsive website is one that only works with certain browsers, few devices or that takes too long to load. Remember that not only have design characteristics changed, but the technology we use to access the Internet has also changed. Consumers are now using more mobile devices and recently updated browsers. Check your website from a variety of the new online tools and programs to see how yours holds up. You may have to redesign yours to fit with the latest technology trends.
4. Traffic Metrics
A downward trend of conversions and sales could mean your website needs a little reworking. Another key indicator your site needs some work is if you're finding fewer and fewer consumers are engaging or using your website. Sometimes these things can decline due to your products and services not fitting the market you are targeting. However, a gradual and sometimes even drastic decline in traffic metrics can mean you need to go back to the drawing board and rethink your web design and marketing strategy.
5. Lack of Business
One of the biggest key indicators your website needs some redesign work is the lack of business you are receiving from the site. Are visitors navigating past your websites home page? If not, you aren't getting any business from your site. A redesign may be needed if you find consumers are not going past your home page onto your shopping and information pages.
Give your website a new life. Change the design, update your graphics and start bringing in customers. New designs are a great way to get customers to come to your site and send you their feedback on what they think. Take your website down for a few days, or however long it takes you to redesign it, then re-launch the new site with a grand reopening, online-extravaganza. Advertise the new design and grand opening to bring in new customers and get lost customers to return to your site.
Amy Bishop works in marketing and digital strategy. You can connect with Amy on Twitter, Google+, LinkedIn or Pinterest.