Innovative New Educational Game Brings 3D Immersive Role-Playing Into American Schools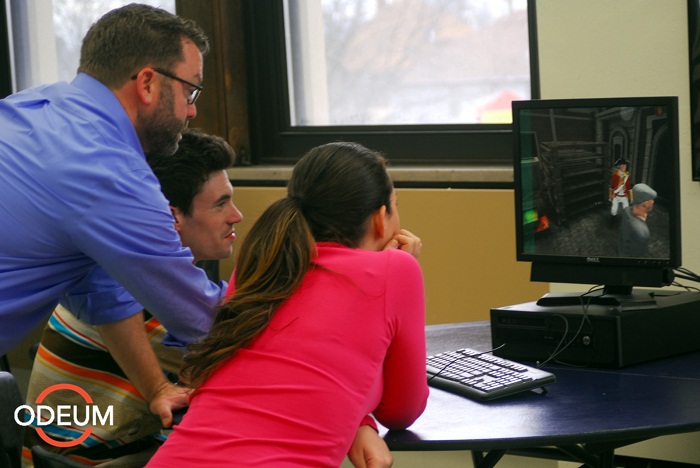 A new set of educational computer games is on the way that seeks to provide a thoroughly enjoyable educational experience. It has long been the goal of educators to 'edutain' – educating will entertaining. This seems to have the potential to do exactly that.
The company's behind this new innovation is 'Odeum', which is originated in the Ancient World, from Greek ōideion – a theater where ancients of Greece and Rome hosted music and poetry competitions. Now, a group of parents, educators and game developers have come together to create a game theater for modern age scholars.
The Odeum games focus on Social Studies, Language Arts, and Foreign Languages for grades 6 through 12. But because they are easily customizable, teachers and parents of elementary school children can utilize them by creating a project-based learning process to help the kids better understand school books and relate to the events described there. In addition, players can compete with each other by using leaderboards, making the learning process more fun and engaging.
An educator can choose a game based on the grade and subject, and either use it as-is or customize it to better suit the class needs. In addition, the games employ the principles of differential learning: they will adjust to different levels of student ability within the same class to make everyone's experience positive and rewarding. The system also lets the teacher know via the dashboard which concepts the student had problems with.

"We want to bring the excitement of field trips into our classrooms, so the students can experience history or literature rather than just memorize words and dates. Playing our games will help children to succeed in school and develop problem solving skills without a fear of failure. At the same time, it will allow educators to increase engagement, provide appropriate level challenges for students at different levels and receive instant feedback," said Ian Natzmer, the founder and CEO of Odeum Learning.
While the official theater launch will be in July, website visitors already can join the Odeum community and try out the beta version. There's currently a Kickstarter campaign to gain funding for these games. The backers of the Kickstarter campaign will have a unique opportunity to choose from a single game to a whole school subscription, as well as to order custom characters and even a custom role-playing game based on the school curriculum. A part of the funds will be allocated to free subscriptions for schools in underserved communities.
To learn more about the Kickstarter project, visit the campaign's page: www.GetOdeum.com . It definitely looks like one to watch. Will it succeed in creating an experience that is as fun as regular video games, but as educational as a textbook or school lesson? That remains to be seen. What is clear is that it represents a novel learning experience, and could be the start of something new. Only time will tell whether or not it catches on.