Effective Methods To Teaching A Child To Swim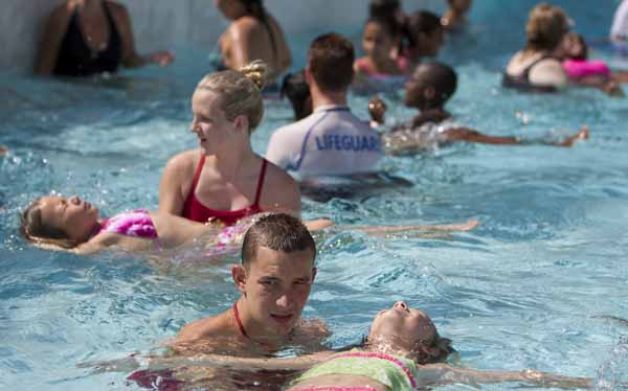 Some parents worry that swim lessons won't be safe. If you've been under that impression you may be in for a surprise. Children love water. Bath time is clear evidence. Swimming capitalizes on this natural tendency. Even young babies are very comfortable in the water. And the younger a child learns, the longer they tend to keep at swimming. It's one of the few fitness routines the entire family can participate in together. Many swim school have developed effective programs beginning with teaching young babies to float in the water. Exemplary intruction by patient trainers are key and often quite interesting.
With babies. The instructors must be cautious, for certain. They aren't able to play water games quite yet. The goal is to keep them comfortable in the water and let them become accustomed to how it feels. Often parents participate in these classes as well. Around the age of one year old, babies can begin water games and using some basic water toys. (Water toys should never replace adult supervision and appropriate water safety devices.)
Here are some of the games you can play in the pool with children.
You can throw ping-pong balls across the water. The children need to swim and collect the balls within a set amount of time. The numbers of balls they collect determines their score and the collector of most balls wins the match. This game encourages your child to increase their speed of swimming. There are many kids who are reluctant to get their faces wet but they might find this game interesting and participate with lots of excitement.
If a child is afraid of keeping his or her head underwater, it might be difficult to swim because learning breathing techniques is vital for swimming. Some schools, like our Sugar Land location, allow children to use water toys. They can hold on to themas a support while putting their heads underneath the water. The longer they can stay submerged, the more it helps in developing their breathing capacity. These toys even support children in floating; but the moment they learn proper floating skills, instructors must stop using them to eliminate dependence on them.
Diving in pool might be fun, but for many children it is a frightening consideration. The best way to get rid of this fear is to teach the kids to fall into your extended arms from a sitting position at the side of the pool. Over time, instructors can step a bit away or present other challenges that increase independence as they begin to teach the techniques for good diving,
If a child is particularly scared, then don't force them to participate in any sort of water games. Ask them to stand and sing songs or narrate poems that involve body movements. These activities can motivate them to understand the resistance of water and how to use their bodies in the water to move ahead. The moment kids start enjoying these activities, they begin to move their limbs, step closer or on the highest step of the pool, and maybe even get ready to wet their faces. Parents can join these sessions to encourage the little ones to relax and help them grow confident enough for this new activity: swimming.
A word of advice, parents must never force children who are afraid of swimming or do not like putting their head below water. All they need are praises and support. If the parents cannot be a part of the swimming session, encourage the children for their achievements in learning new tricks at swim school. This inspires them to work hard and overcome the fear of inhaling water, or floating in the shallow region of pool without drowning. Teaching kids swimming is a thrilling experience. You can always create unique pool games to make this exercise appear interesting and fun filled for the children. The options are endless and the outcome worth every bit of effort.