Easily Convert Your VHS To Digital With Movavi!!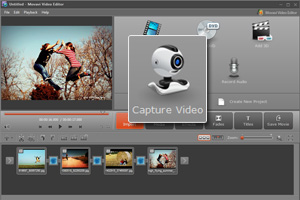 Old videos recorded in VHS cassettes can now be re energized with the help of Movavi video editor software. It has option which can convert VHS to digital. This easy to do software is extremely handy and can effortlessly convert VHS to any other video formats. To know how to convert VHS to digital all you need to do is follow the following procedure and get your work done without any expert's help or guidance.
Earlier you must have made use of special convertors to change your VHS to DVD. But now such elaborate processes are not required. With the free software of Movavi you can easily convert your 8mm long VHS to digital format or any other type. All that you need is a VHS player, a tuner for TV and cables that can connect all of these to your computer. Once you have these equipments, now it just requires a few minutes to convert your VHS to DVD.
Firstly you need to download and install Movavi video editor. After launching the programme you should select the capture video option. You will see a section that allows you to catch the output of your cassette or any other devices.
Now you need the video cables and connect the VHS player to the tuner for TV. This in turn needs to be connected to your computer. You must ensure that both the devices that you have connected are recognized by the computer.
Next the parameters determining the capture must be adjusted. The video capturing device must be chosen for your devices which is the TV tuner. The video capturing source must be changed to composite ode. The audio capture source must be turned to audio line-in mode and the output folder must be set to the folder where you wish to save the video.
Recording begins now. Choose the Start Capture option. Then the tape must be played in VHS player. Once the entire video is played, press Stop Capture!
Once this is done, you can open a new file and place you movie on editable mode. You can edit the movie as per your preference. The most important task is yet to be done. In order to convert your VHS to digital, you need to burn the video to DVD. This can be done from the Save Movie option and after selecting Burn to DVD option.