Do You Have What It Takes To Become A Doctor?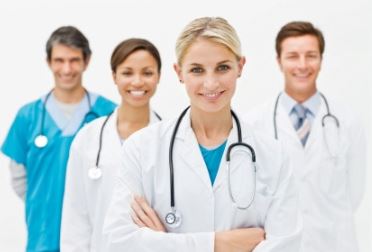 If you're applying straight from sixth form, it's fairly straightforward: you apply to a university of your choice through UCAS and wait for the interview dates to roll in. You'll typically be asked for three A's, in subjects including chemistry, biology and maths.  All medical schools are different, and are therefore looking for different characteristics, so don't worry if you initially get rejected from a few. Remember nobody wants an individual whose strengths lie solely in science, try and develop other interests outside of school, including volunteering, society clubs, sports and hobbies – they are looking for well-rounded people.
If you find yourself halfway through sixth form before deciding you want to go into medicine, and find you aren't taking the right A-levels, don't despair. Most universities will take you if you take a third year to take the right subjects, and some universities even offer a pre-medical studies course for exactly that situation. However, that course does cost £9K – so perhaps continuing with your A-levels for an extra year is the better (cheaper!) option?
Doing medicine as a postgraduate is possible, but you'll need a high 2:1: this is, however, a good route for someone who studied the right spread of A-levels but didn't quite get the grades they needed for entry into medical school the first time around.
Career Options
So, having got past these extensive hurdles, and assuming you are into university, the next question might be, where is this medical degree going to take you? There are over 60 clinical specialisms you can choose from, but in terms of career progression there's thankfully no rush to decide in your first year – or even your fifth year!
Medical students can, however, start to develop their personal interest in a subject specialism in the final two years before graduation through an assessed project and a practical placement called an elective. The elective is anywhere between a 6 -12 week period, depending on where you are studying. The elective can be used as an opportunity to learn more about yourself and to explore a particular area of medicine, as well as an opportunity to study abroad.
How far can you Take it?
You could do anything from a short stint as part of your career in your home nation to dedicating your life to working in developing countries. There really is no limit to what you can achieve in this line of work.  A British medical degree is recognised in most countries across the world, meaning that you can apply for jobs abroad with ease. If you do stay in the UK, however, as most doctors who qualify here will, it's important to be realistic; there will always be more need for GPs than for heart surgeons.
The Exams
It will take approximately 10 years to train as a GP and 14 years to train as a surgeon. The extensive exams are arguably the hardest in the world, testing a wealth of knowledge about the entire human body – one that is constantly changing. CliniQuest is a statistical data, regression and item analysis software that is used for practical hands-on medical exams with the examiner filling in the sheet depending on whether a student has performed a task e.g. performed a blood test, washed hands etc. This compliments a wealth of written exams undertaken, and don't forget you will have to keep your training up even once you've qualified, there will always be written, oral and practical exams that you need to take in order to keep qualified with the rapidly changing technology.
With over a decade of studying, late nights, exams, blood, sweat and tears in order to become fully qualified, you may be questioning if this career choice is still for you? If you have an appetite for a challenge, an exciting and varied role, and life, then it's time to get signed up for medical school!